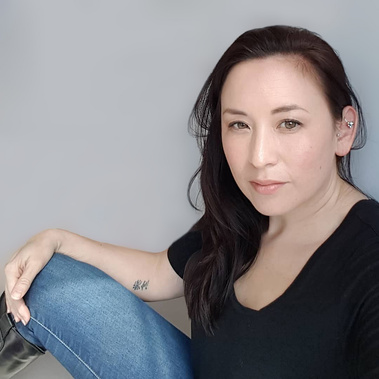 Linds Miyo

Self-taught artist Linds Miyo is a Canadian abstract painter. Born and raised in California, her work strives to evoke the strong, direct light of her childhood. A trauma survivor, Linds is interested in the balance between intention and that which is beyond our control, the meeting place between our best efforts and happenstance. She begins with broad representational panes of textured black underpainting in her work. These are black paintings, with layers upon layers of colour washed over top - folding the dark relief of the past into multi-dimensional present-day, with honesty, intimacy, and happiness.
Linds Miyo lives and works in Toronto, Canada.
CV


EXPERIENCE
Art Educator
The McMichael Canadian Art Collection

EXHIBITIONS

What Remains
Group Exhibition
Sept 2023
Visionary Art Collective / Brooklyn
The Artist Project
Group Exhibition with Akin Residency Program at AutoBLDG
April 2023
Better Living Center / Toronto
Akin Residency Program at AutoBLDG + The Artist Project
Online Exhibition
April 2023
ArtPlacer.com
Akin Winter Exhibition
Group Exhibition
December 2022
Clark Centre for the Arts / Scarborough
Off The Screen
Group Exhibition
December 2020
Propeller Gallery / Toronto

Dreaming With Eyes Open
Group Exhibition
October-November 2020
Arta Gallery / Toronto
At Intervals
Group Exhibition
October-November 2020
158 Sterling Road / Toronto

New Measures
Group Exhibition
October 2020
Collision Gallery / Toronto

The Other Art Fair
Juried Exhibition
May 2020
Chicago
(postponed due to COVID-19)

Work With What You Have
Solo Exhibition
February 2020 - 2022
Hair Holistic / Toronto
(extended due to COVID-19)
The Artist Project + THE FIX
Juried Exhibition
February 2020
Yorkville Village / Toronto

The Artist Project
Juried Exhibition
February 2020
Better Living Centre / Toronto

The Big Holiday Smalls Show
Group Exhibition
December 2019 – January 2020
Artist's Network Gallery / Toronto
The Salon of Inclusiveness
Group Exhibition
December 2019 – January 2020
Black Cat Gallery /Toronto

Akin Holiday Party & Show
Group Exhibition
December 2019
Museum of Contemporary Art / Toronto

things I've been thinking, things that I've thought
Solo Exhibition
November 2019 - January 2020
Queen's Shop / Toronto
Partial.Gallery Canadian Emerging Artists Digital Showcase
Group Exhibition
November 2019
Daegu Art Fair / South Korea
Small Cures
Group Exhibition
November 2019
The Burroughs / Toronto
The Parkdale Biennial - Part II
Group Exhibition
September 2019
Gallery 1313 / Toronto

Toronto Outdoor Art Fair
Juried Exhibition
July2019
Exhibited in Two Categories: 2D Works and Painting
Toronto
Riverdale Art Walk
Juried Exhibition
June 2019
Toronto
Pop-up Gallery
Solo Exhibition
April 2019
StacktMarket Work/Shop / Toronto
Visual Arts Movement
Group Exhibition
April 2019
Freedom Factory Gallery /Toronto
The Salon of Inclusiveness
Group Exhibition
December 2018 – January 2019
Black Cat Gallery –Showroom / Toronto
Holiday Show
Group Exhibition
December 2018
Akin Studios Ossington / Toronto
Holiday Show
Group Exhibition
December 2018
Freedom Factory Gallery / Toronto
Graven Feather In the Round 2018
Group Exhibition
October-November 2018
Project Gallery / Toronto
Celebration
Group Exhibition
October– November 2018
Artusiasm Gallery / Toronto

Queen West Art Crawl
Juried Exhibition
September 2018
Toronto

AWARDS & RESIDENCIES

Residency
Akin Studio Program at AutoBLDG
2023
Award
Partial.Gallery Year in Review:
Most Favourited Artworks of 2022
January 2023
Of the thousands of works exhibited on Partial.Gallery, these are the top 10. Take a look back at the past 12-months in art-making with the 10 most favourited works on Partial.
Residency
Akin Studio Residency at AutoBLDG
2022
Residency
Akin Studio Residency at AutoBLDG
(formerly known as Akin Studio Residency at the
Museum of Contemporary Art Toronto)
2021
Residency
Akin Studio Residency at the
Museum of Contemporary Art Toronto
2019 – 2020
Award
"Loved by Tiffany Pratt"
Tiffany Pratt, Official ArtLove Envoy
Toronto Outdoor Art Fair 2019
CURATORIAL WORK

Akin Residency Program at AutoBLDG + The Artist Project
Curation and Exhibition Design for the Akin Residency Program at AutoBLDG + The Artist Project 2023. Included in-person art fair booth curation and design, coordination of booth staffing, and facilitation of art sales; as well as online gallery curation, creation, and design. Creation and distribution of marketing materials for both in-person art fair and online galleries. Documentation and distribution of documentation for both projects.
PUBLICATIONS & INTERVIEWS

Akin Studio Program Member Highlights: Linds Miyo, Amada Estabillo & Kate Gorman | Akin Projects
October 2023
Exclusive interviews with the talented artists from Akin Studio Program at Auto BLDG. Linds Miyo: "No matter what I'm doing, I'm working through process, I constantly have visuals and imagery happening in my thoughts."
Linds Miyo: Artist in Residence | Medium
June 2023
Imprimo Digital Artist in Residence Interview by Prescient, for Medium: "This is a means of acceptance, growth, and making myself whole. The black is showing. I'm not hiding."
Linds Miyo + Imprimo Art | Marketing Collaboration
Mar 2023 - May 2023
Excited to share my marketing collaboration with Imprimo Art. Thank you Imprimo Art for helping me tell the story behind my art. Online marketing campaign including studio visit, interview, and video advertisements.
Increase Opportunities for Your Work,
with artists Linds Miyo and April Pyne
January 2022
CARFAC, Partial and Imprimo present their virtual event: Increase Opportunities For Your Work. Join us on January 5th at 6PM EST for our virtual panel artist discussion on how to present your work online for increased engagement and expanded opportunities for sales.
Cancellations, unpaid bills, eviction threats:
Inside the grim reality of being an artist right now
April 2020
Moira Ness details some of the immediate challenges she's facing as COVID-19 wreaks havoc on the art world
Canada's Landscape Artist of the Year
Wildcard Artist
Premiere: February 16, 2020
Art and reality TV, together at last! Six of the country's top artists have just four hours to complete a landscape masterpiece. Each week, it's a new group of artists in a new location, all vying to make it to the final. Who thought watching paint dry could be this fun? I appear as a "Wildcard" in Episode 1.
CuratorOnTheGo Podcast
Episode Seven: Linds Miyo
October 2019
Loved being a part of this!! The Curator on the Go Podcast is a show for artists and art professionals who are ready to build a thriving art career and business while doing something they are passionate about. Liza and I laughed A LOT recording this, I hope you enjoy listening to it! Direct link to podast is here. Or read the transcript here.
Artifier Newsletter
Featured Artist: Linds Miyo
October 2019
Artifier is Toronto's Art Directory, created with the mission to help make art more accessible for everyone. I'm so excited to be the very first featured artist in Artifier's newsletter, where I had the pleasure of writing about my picks for shows and events around the city.
Made By: A Canadian
Linds Miyo from Wonder*&Story
July 2019
Thank you to Made By: A Canadian, it's a great honor to be featured with so many other incredible makers, artists, and businesswomen! This profile includes an interview, studio tour, and my advice for how to get started.
Partial.Gallery
Meet the Artist: Linds Miyo
April 2019
My friends at Partial.Gallery came by for a studio visit! Meet the Artist: Linds Miyo includes an interview, studio tour, and pics of my process.
WORKSHOPS

Workshop
Pumpkin Art
Fall into MOCA / TD Community Sunday
Museum of Contemporary Art Toronto
October 2019
PROFESSIONAL EXPERIENCE

Notable Professional Titles include:

Co-Founder / Vice President / Creative & Design Director / Brand Controller /
Managing Editor / Studio Manager / Creative Facilitator

Notable Personal Titles, all of which deeply inform my work:

Woman / Friend / Partner / Mother / Trauma Survivor /
​Listener / Observer / Activist
I've painted all my life. "Oh, I paint... sometimes," I'd say. A pastime, a minor pleasure. Years could pass without painting, but the need was always there. I just wasn't ready. I left painting alone.

My career, and indeed my existence, were formed by large commercial creative endeavors, moving cross country and then internationally while working in publishing, advertising and branding as an art director, creative director and creative facilitator. I helped others make many great things, a few of which I could even claim as my own - but they never felt quite true to me. It has taken me my entire life to see my truth – this is the time, this is the life, this is my community - I am an artist.

I am an artist because I believe there is more. We all need more. We need the wonder of unexpected beauty. We need light and color that expands our perceptions, which shakes us out of our predictable routines. I want to create the story of that beauty. I want to engage with the joy, to celebrate color, to revel in the power and energy it brings to even the smallest of our experiences.

These pieces are but a few examples of this philosophy. I have been an artist for a short period of time. As I embark on this fresh journey, I am emboldened by the ease at which the work comes. I am letting it flow. I am proud of this first "real" work of my career. Of my life.

There is more.

All paths have led me here.

I am an artist.

I hope that my work brings you happiness.

With colour, art, & love,
Linds

Most of my paintings start with the Black.
I love the Black. Chalkboard paint, a heavy texture and drip that I adore.

I add colour, washing it over the top. I paint around, over just a little. I make the Black a beautiful part of a larger whole, absorbed into something greater, with colour, light and soul.
Like many others, I am a survivor.
I've had to overcome.

The trauma was there before my memory began recording.
The Black is Me. It is everyone who has ever gotten to the other side.

The Black is volcanic ash that now supports new life.
The Black is a forest fire, burnt ground that is now fertile for discovery.
They are the past.

I decide what comes next.
I will decide what colour.
I will add glitter and varnish on top of the past.

I will make the future.